GYMNASTICS
The primary objective of the National YMCA Progressive Gymnastics Program is to provide each individual the opportunity to develop his or her potential through an instructional program that encourages development of the total person - mentally, physically and emotionally. Participants are encouraged to gain self-confidence, develop personal responsibility and leadership understanding, and to learn to work together, respecting the rights of others. Each level of this comprehensive program will emphasize skills development, safety education, gymnastics foundation, execution keys, and values education. All progressive gymnastics levels will practice skills on all four gymnastics apparatus: uneven bars, floor exercise, balance beam and vault.
Rollers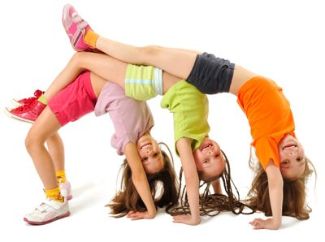 This class is for beginners at least six years of age. Basic skills to be taught include forward and backward rolls, bridge position, handstand, basic locomotor
skills, basic body positions and pullover on uneven bars. Class is one hour long. Must have pullover to pass to swingers.
Swingers
This intermediate class is for boys and girls who have passed the rollers class Basic floor skills to be taught include: cartwheel, roundoff, handstand, forward roll, back hop circles and bridge kickovers. Class is 1 1/2 hours long.
Kippers
This advanced class is for boys and girls who have passed the Swingers class. Skills to be taught: handspring vault, cartwheel on the balance beam, and back handsprings on the floor. Class is 1 1/2 hours long.
Pre-Team
This class is available for gymnasts who have completed the Kippers, but are not yet ready to participate on the competitive team. The head coach must approve Pre-Team participation. Class is 1 1/2 hours long.
Pre-School Gymnastics
This class is designed for boys and girls three, four and five years old. Class content includes basic tumbling, body positions and locomoter skills, as well as primary apparatus skills. Class is 45 minutes long.
Tumbling
This class is designed for students in grades 4-12 who are interested in learning the basics for tumbling and jumps. Proper technique and form will be stressed with skills such as forward rolls, backward rolls, backbends, kickovers, cartwheels, round-offs and progress to back and front handsprings, etc. Class is 45 minutes long.